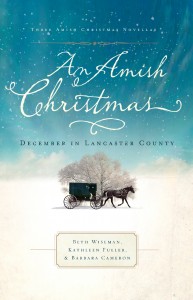 Buy This Book: Click Here
December in Paradise. 

A time of hope, redemption, and new life.

A Choice To Forgive by Beth Wiseman.
After Daniel disappeared that long-ago Christmas Eve, Lydia built a life with his brother. But now she's a widow and Daniel has reappeared, asking for forgiveness. But can she go back to her normal life with her long-lost love as her neighbor?
A Miracle for Miriam by Kathleen Fuller.
Seth is no longer the arrogant young man who shattered Miriam's confidence and broke her heart. But can he convince "plain" Miriam that she is truly beautiful to him?
One Child by Barbara Cameron.
The birth of one child forever changed the world two thousand years ago. On a snowy Christmas night in Lancaster County, another child changes the world for two very different couples.