My next release is a novella entitled When Love Returns, which will appear in An Amish Homecoming collection, available in bookstores everywhere in October. I'm thrilled to be included with my Amish author friends—Amy Clipston, Shelley Shepard Gray, and Kathleen Fuller. It's available for pre-order here . . . .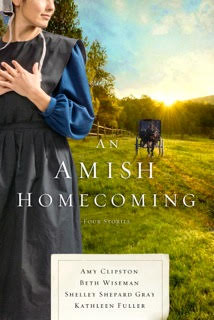 An Amish Homecoming
Four brand new Amish stories of coming home by Beth Wiseman, Amy Clipston, Shelley Shepard Gray, and Kathleen Fuller.
About the Book
Four brand new Amish stories of coming home.
No Place Like Home by Amy Clipston
Estranged daughter Eva Dienner has been staying with her in-laws, the Riehls, since her husband was killed in a fire, but now she wants her son to meet his maternal grandparents. Upon her return, Eva finds that the man her parents always intended for her is living in their daadihaus and running the dairy farm for them for free, despite her suspicions of him taking advantage of her family. Eva knows she should put the past behind her, but is she ready to move into the future?
When Love Returns by Beth Wiseman
Hurricane Harvey forces Sarah Zook to return to the home she fled six years ago when she couldn't face her stern parents' reaction to her unplanned pregnancy. Upon her return, Abram King can think of nothing but the pain she caused him—until he meets Sarah's daughter and realizes that he never really stopped loving Sarah. Sarah and Abram must find a way to face the truth of their past so they can rekindle their first love.
The Courage to Love by Shelley Shepard Gray
After the death of her Englisch husband, Irene Keim seeks a fresh start by staying with her new friends Mary Ruth and Henry Wengerd in exchange for helping them around the house. But when Mary Ruth and Henry's son Marcus comes around, he isn't pleased with the woman they've taken in and is determined to push her out. Misunderstandings abound, but both Irene and Marcus learn that people aren't always what they seem.
What Love Built by Kathleen Fuller
Independent and headstrong, Carolyn is determined to forge ahead with the opening of her bakery, a lifelong dream, in the Birch Creek home she left ten years ago. But she's in over her head and needs help with the cleaning, shopping, and deliveries. Carpenter Atlee Shetler is visiting Birch Creek to escape the memories of his late wife. He takes a job renovating the new bakery and finds the project—and its owner—to be much more than he bargained for. Both Carolyn and Atlee must face pains of the past if they want to have the bright future God has planned for them.
Endorsements
An Amish Homecoming received a STARRED review from Publishers Weekly: "This is a joyful, highly entertaining cycle of stories from four Amish fiction heavyweights."