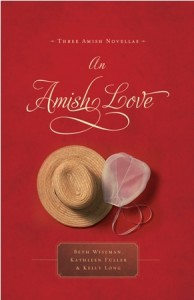 Buy This Book: Click Here
Two of today's most popular genres–Romance and Amish fiction–together in one volume."Healing Hearts" by Beth Wiseman: Levina Lapp and her husband Naaman are alone for the first time in 30 years. When Naaman left to visit cousins in Ohio, Levina wasn't expecting him to be gone a year. Now that he's back, will they be able to move beyond this estrangement and fall in love again?

"What the Heart Sees" by Kathleen Fuller: A tragic accident rocks a peaceful Amish community, leaving Ellie Chupp blinded and Christopher Bender's future shattered. But they find love and forgiveness in a place they least expect.

"A Marriage of the Heart" by Kelly Long: Rachel Yoder is tired of her Amish lifestyle and her domineering father's ways. When handsome Joseph Lambert comes back from the Englisch, she lies to force a marriage of convenience, providing the perfect means to escape her father's rule. But Rachel never imagined she'd fall in love with Joseph so quickly or irrevocably.