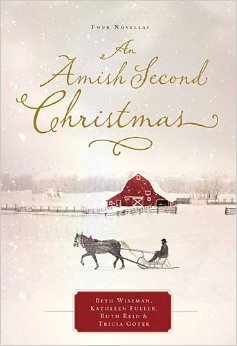 Four novellas by four best-selling authors intertwine for A Second Amish Christmas, coming October 14, 2014.
About the Book
When Christmas Comes Again by Beth Wiseman
Katherine Zook and her four children are facing their first Christmas without a loved one, and the future seems dim. But when a mysterious Englisch man begins to show up in the most unlikely of places, Katherine can't help but be suspicious . . . and a bit curious.
Her Christmas Pen Pal by Ruth Reid
When Joy Stolzfus's boyfriend tells her he wants to court other women, she's shocked. She pours her heart out in a letter, but it mistakenly reaches Noah Esh. The two begin writing letters back and forth, but a misunderstanding threatens to topple the relationship they're building.
A Gift for Anne Marie by Kathleen Fuller
Anne Marie Smucker's life is pretty perfect. Until she discovers her widowed mother is getting married and they're all moving. On top of that, Anne Marie's relationship with her friend Nathaniel has changed, and she's more confused than ever about her feelings for him.
The Christmas Aprons by Tricia Goyer
Esther Glick bakes a Christmas pie for a fundraiser, and she soon finds herself sitting across from bachelor Ammon Schwartz. Esther receives many orders for pies, but when she breaks her wrist, she discovers what community—and love—are all about.