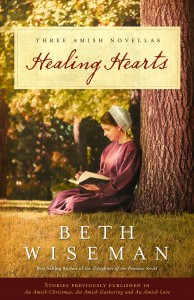 "Healing Hearts" Levina Lapp and her husband Naaman are alone for the first time in 30 years. When Naaman left to visit cousins in Ohio, Levina wasn't expecting him to be gone a year. Now that he's back, will they be able to move beyond this estrangement and fall in love again?
"A Change of Heart" Leah is a writer in a community that does not encourage such fruitless endeavors. She lacks the skills necessary to be a good Amish fraa. Aaron knows these things about Leah, but his heart is captured by this spirited young woman.
"A Choice to Forgive" Lydia has loved two men in her life. Daniel disappeared one Christmas Eve long ago, leaving only a note saying he wanted to live in the Englisch world. And Elam, Daniel's brother, to whom she has been happily married for 15 years. When Elam dies, Lydia gives up on ever loving again. But she is shocked when Daniel wants to return to the Order and her life.
These novellas previously were published in An Amish Love, An Amish Gatheirng, and An Amish Christmas.