Beth has begun a new series called Amish Secrets. The first novel, Her Brother's Keeper, is coming July 7, but you can pre-order your copy below!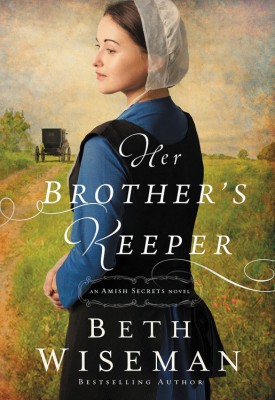 Her Brother's Keeper
Charlotte came to Amish country to find answers. What she never expected to find was peace.
About the Book
Charlotte Dolinsky is not above playing dress-up and telling a few lies to find out what happened to her only brother. In fact, that is exactly what she's come to Lancaster County to do. Now, calling herself Mary and slipping on a kapp, Charlotte will lie her way into the confidence of anyone who knows why Ethan had to die. Unless she gets found out first.
But when Charlotte befriends a quiet Amish man named Isaac Miller, she begins to rethink her motives. And with a little help from a friend back home, Charlotte might find out that love comes packaged in ways she couldn't have foreseen.
Isaac's been caring for his cancer-stricken father and sympathizing with his frustrated mother for three difficult years. And that means he hasn't been dating. He believes Hannah King is the woman for him, but Hannah is still grieving the loss of her fiancé, and Isaac has all he can handle on the farm. When Hannah's family plays host to a woman named Mary, their new cousin shakes things up for all of them.
As Charlotte digs deeper into the mystery of Ethan's death, she finds more than she'd bargained for in the community he once called home. But will she ever learn the truth? And what will the community—and her new family—do if they learn the truth about her?
Advance praise for Her Brother's Keeper
"Readers will be hooked from the start to find out how this young woman will pull off her charade. An ideal book for someone new to Amish fiction."
— Suzanne Woods Fisher, bestselling author of Anna's Crossing

"This new series has caring characters […] the plot has enough twists and turns to keep it interesting. Wiseman has created a series in which the readers have a chance to peel back all the layers of the Amish secrets."
— RT Book Reviews, 4 1/2 starred review and July 2015 Top Pick
"Wiseman's new launch is edgier, taking on the tough issues of mental illness and suicide. Amish fiction fans seeking something a bit more thought provoking and challenging than the usual fare will find this series debut a solid choice."
— Library Journal, review
Ask Beth
Why did you write this book?
After writing two other Amish series and lots of Amish novellas, I wanted to create a new series that would be a bit edgier than what I've done in the past. Her Brother's Keeper deals with serious subject matter, and I wanted to challenge the characters to search their hearts and beliefs when tragedy strikes. I strived to write a book that would be thought provoking, entertaining, and even a little controversial. As I've done with my other stories, I added in some fun moments to keep balance, but also wanted to show that the Amish folks aren't so different than the rest of us. 🙂
What's the take away?
I'm hoping that readers will be entertained, but also educated about the realities associated with suicide and mental illness. Will they recognize the signs that a loved one is in trouble and act on it? In the story, a character lives with regret for not doing more to help someone he sensed was reaching a point of no return.
Is there a spiritual message?
God forgives our sins the moment we ask Him to. There is nothing too big for Him to lift from our shoulders.
Other Books in "Amish Secrets"