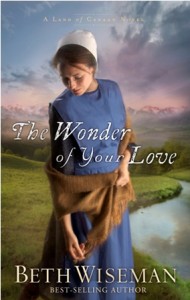 Book #2 in the Land of Canaan series.
Katie Ann lost the love of her life. But in Canaan, God offers her a new beginning.
Katie Ann Stoltzfus has covered a lot of terrain to get to where she is today. She lives in the small Amish community of Canaan, Colorado, and at forty she is widowed and raising her first child. But baby Jonas will never know his father, and Katie Ann wonders if her Heavenly Father hasn't forgotten about her as well. Is it God's plan for her to be a single parent?
Eli Detweiler has come to Canaan for a wedding and a long vacation. Having raised six children following the death of his young wife, Eli is finally an empty-nester. He's enjoying the slower pace of having no one to look after but himself.
When Katie Ann and Eli meet there is an instant connection. But as strong as the attraction is, they both acknowledge that a romance would never work out. He is done parenting, while she has just begun.
But as their friendship slowly blossoms into feelings that are as frightening as they are intoxicating, Katie Ann and Eli must question if the plans they made for themselves are in line with God's plans.
Can Katie Ann entrust her heart to another man, and rediscover the wonder of love?