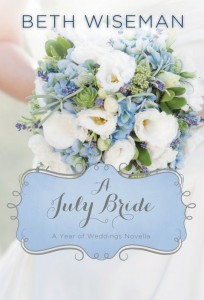 Beth Wiseman's latest work, A July Bride, will be released June 24, 2014, but you can pre-order it for the Amazon Kindle or the Barnes & Noble Nook now!
In a moment of total panic, Brendan left Alyssa at the altar. What will it take for him to win her back?
When Brendan Meyers became a "runaway groom," Alyssa Pennington's heart broke. But she's returned the unopened gifts, exchanged the dress, and is ready to get on with her life…and forget Brendan.
The problem is, Brendan can't forget. He can't forget the love he and Alyssa shared and can't forgive himself for what he put her through on their wedding day. He can never undo his actions, but at least he can try to win Alyssa's forgiveness. And maybe, someday, another shot at her love.
Dalton Landreth was the only person not disappointed about that botched wedding. He had been eyeing Alyssa since high school—with his gorgeous, magnetic blue eyes—and when Brendan ran out the church doors, Dalton heard opportunity knocking.
Within months of being jilted at the altar, Alyssa finds herself being simultaneously wooed by the love of her life and the best-looking man she's ever seen. Not bad for a small-town girl with a broken heart.