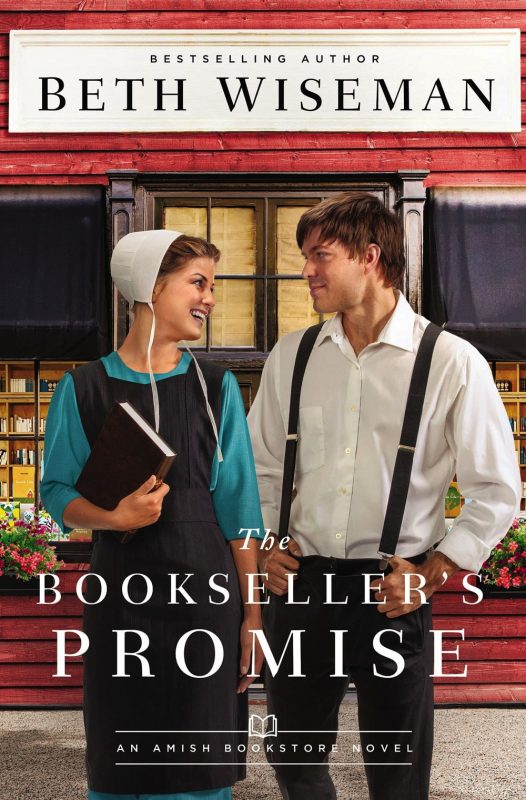 In the first novel of Beth Wiseman's new Amish Bookstore series, a rare, old book may hold answers to a present-day romance.
About the Book
In the first novel of Beth Wiseman's new Amish Bookstore series, a rare, old book may hold answers to a present-day romance.
Yvonne Wilson arrives in Montgomery, Indiana, determined to purchase a rare book on behalf of a client willing to pay her an absurd amount of money for her efforts. Engaged to be married in a few months, Yvonne is thrown off guard when she finds herself attracted to the handsome bookstore owner, Jake Lantz—and now she's asking herself unexpected questions about her future.
Jake Lantz made a promise to his grandfather to never sell the book Yvonne wants to buy, and it's a promise he plans to keep. Jake begins to read the book with Eva, one of his employees, and Eva sees this time together as a way to get Jake to see her in a new light. Eva's loved him for years but senses Yvonne's attraction to Jake right away—and she wonders how Jake feels about Yvonne, an attractive English woman determined to stay in Montgomery until she convinces Jake to sell the rare book.
As Yvonne's, Jake's, and Eva's individual paths merge into something more than they could have imagined, each must face decisions they never anticipated. Will Jake ultimately break his promise to his grandfather? Will Yvonne leave the quaint life she's been living in Amish Country to go back to her fiancé? And will Eva be able to get Jake to see her as more than a friend? The answers just might be buried within the pages of a rare book.
Endorsements
Wiseman (A Season of Change) kicks off her Amish Bookstore series with a heartfelt inspirational romance. Indiana Amish bookseller Jake Lantz realizes that he is in love with his assistant, Eva Graber, but another man wants to marry her. Jake feels he needs to step aside, not realizing that Eva's been waiting for Jake to notice her. Meanwhile, the biggest client of Texan and rare book dealer Yvonne Wilson has sent her in search of a title from 1875 that is rumored to heal those who are spiritually lost. Her quest leads her to Jake, who, as it happens, Jake owns a copy of the book and promised his grandfather he would never sell it. Yvonne, though, decides to stay in town as long as it takes to convince him to change his mind. After Yvonne "borrows" the book, she reconsiders some long-held beliefs about the world, herself, and death—beliefs that will take on a new importance when tragedy strikes. Yvonne and Eva also become friends, setting Yvonne on another mission, this time to help Jake and Eva act on their feelings for each other. Wiseman skillfully interweaves the romantic and conversion story lines and has an easy hand juggling her ensemble cast. Anyone who has ever known the power of a book to change lives will appreciate this tale of love and faith.
Wow! The description of this book makes it seem like the same tried and tested Amish fiction narratives that are sweet and work well with audiences, but it is so. much. more. There is the first plot, the one we read about in the book blurb, but there is a secondary plot occurring about halfway through the book that really propels it onto another plane and sucks the reader in even more. I'd been just about to put the book down and head to bed, but ended up pulling a late night and reading to the end! At the very last, it sets up for another book with these same characters, and I'll definitely be on the lookout to see what happens next. (No - for those of you who don't like to be left hanging, nothing is left undone. This is a standalone book, but I'm invested in the characters now...)
Other Books in "Amish Bookstore"