Thank you to my readers! My book Hearts in Harmony, book #1 in the Amish Journey series was nominated and received enough votes to make it to the top ten list for the INSPY Award in the Contemporary Romance category.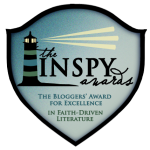 The Inspys were created to select and showcase books with the highest literary standards that grapple with the Christian faith and were designed to help readers in their search for the preeminent faith-inspired literature of today. This program is organized and judged by book bloggers who have considerable experience and knowledge of books published for both the CBA, general and INDIE markets.
The advisory board is ready to get to work and find the top three in each category. Shortlists will be announced April 30th. Stay tuned.