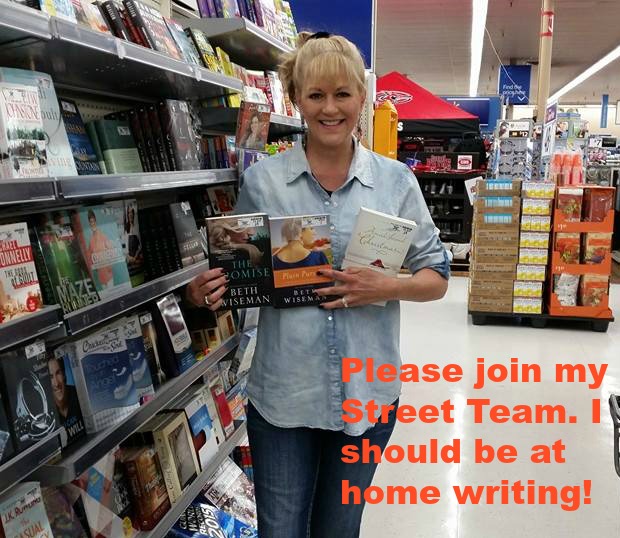 What is a Street Team?
The Beth Wiseman Street Team is a group of dedicated readers willing to help market my books. They will generate buzz and enthusiasm for my brand by completing assigned tasks, reading my books and posting reviews.
What's in it for the Street Team member?
E-copies of my latest books – ahead of everyone else
SWAG, when available
Promotional materials (bookmarks, postcards, etc.)
Access to me and my promotional team (Janet and Jamie) and other Street Team members on our own exclusive Facebook page
Advance Reader Copies of my books
mention in the acknowledgement section of my books as Beta readers (for current and active members)
I realize you are volunteering your time, therefore, I will try to reward you with respect, friendship, and gifts.
What am I looking for as a Team member?
You must sincerely like my work and love my characters and storytelling. A Street Team member must engage with readers on the internet (have Facebook and Goodreads accounts). I'd like for you to spread the word to friends and family about my books and share promotional materials with local libraries and book sellers.
When you receive a new release, help us look for any typos that managed to survive the editing and proofing process and report them.
And most importantly, write and post a review on either Amazon, Goodreads, Barnes & Noble or Christianbook.com soon after the publication date. I am hoping to recruit about 15-20 team members spread from coast to coast across the United States.
Rules?
Yes, of course, there are a few rules:
You must continue to be enthusiastically active in order to remain a member of the team, complete assigned tasks, post reviews, etc.
You must be polite, courteous and positive in all team associated communications.
No spamming. Spamming is ignored by readers/blog/pages/groups. It annoys them, and they will un-friend and ignore anything from us from that moment on.