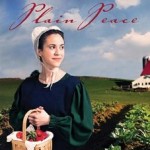 Romantic Times
In her sixth Daughters of the Promise novel, Wiseman skillfully weaves her characters and storylines to create stirring scenes that remind the reader that in keeping a strong faith, you will not be led astray. Rich relationships and familiar characters make it easy for the reader to feel connected. 4 stars
Quiet Quilter's Blog

Beth manages, as always, to write with great compassion and deep understanding of the Amish lifestyle, their challenges, problems, and decisions. The characters are real people with real problems. These individuals have the same problems as you and I, however don't always seek the same road as we would, to solve them. Beth's faith shines through these characters. Each has a unique personality that makes them become a lovable friend. Her talent of appealing to your empathy and faith is outstanding. You reach into your inner being , in deep thought, long after the story has been read.

The main plot is full of unexpected twists and turns. We are brought into the Amish world with its unique complications. Just when you have lost hope, redemption comes to the surface. Beth tackles difficult subjects with compassion and grace. The message comes through this book loud and clear! God can redeem anyone, even the most unredeemable. The hardest heart can become filled with His grace and we ALL are capable of making the right choice. Listening and heeding God's advice can change the individual, the community , …. and why not the world?

A FIVE star book!! Releases on Nov. 12, 2013! Don't miss it.

Jennilee220

I love Beth Wiseman. Her stories are full, rich and teeming with life.
She is able to create a story full of characters, situations, life circumstances and somehow weave them all together to make a wonderful story.
This book covers the story of Anna and Jacob. I loved reading their story and watching how God brings all things together for good.
A story of faith, love, struggle and forgiveness.
A book readers will love this winter season!